The blog hasn't done a CURRENTLY lately and I've never done one before so I thought that I would give it a try. Hop on over to
Farley's blog
to check it out and participate in it.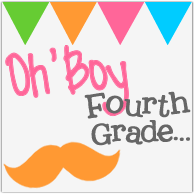 It is so much fun to see what everyone is up to in October.
On an exciting note, I won my first giveaway this week from
Jeannie at The 2nd Grade Surprise
. She is new to blogging so please head over and check out her new blog. It is super cute!!!
On another exciting note, Heather and I threw a bridal shower today for one of our teammates. It was a great time but I am exhausted! I am so glad that this week we get to wear jeans everyday this week with pink to show our support for Breast Cancer Awareness. I am thrilled to be able to support such a worthy cause, but to be honest I am just as excited to not have to think or plan my outfits in the mornings this week!
Hope you guys have a great week!