Congrats to Meredith for winning our giveaway! You will be receiving an email from us soon regarding your winnings. Thank you to everyone who participated in our giveaway.
We have been nominated by several people for the Liebster Blog Award! Thank you so much! Since we have already been nominated for this award and given it onto others, we will just give love back to those that nominated us this time around. First we were nominated by Amy over at Little Miss Organized.
We were also nominated by Kathy at Third Grade Doodles.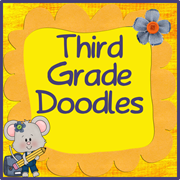 Thank you so much ladies! Please stop by these ladies' blogs and show them some love. After you are done showing us love of course!
Here
is where we answered the questions.
We have been working on measurement in math lately. This is a cute activity we stole saw from a third grade teacher down the hall. It is a "yard" with 3 "feet" and each foot has 12 "inchworms" - get it?!
On one FINAL note - we promise this is the last topic change in this post - Juli passed her National Boards!! Yay Juli!!